Muppet Wiki
Please visit Special:Community to learn how you can contribute.
Don't have an account?
Advertisement

Elmo speaking in the first person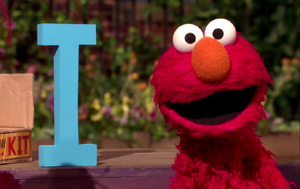 " Why does Elmo refer to himself in the third person? Won't this teach kids improper English?
Elmo mimics the behavior of many preschoolers. Like most three-and-a-half-year-olds, he doesn't always have the mature skills or knowledge to speak "proper" English. However, cast members and many of the other Muppets do demonstrate the proper usage of the English language. "
—Sesame Workshop Frequently Asked Questions
One of Elmo's most distinctive traits is always referring to himself in the third person, a mannerism that can be traced to the character's early appearances in Season 16, and which became more consistent the following season. Since then, there have still been occasional instances of Elmo saying "I," "Me," and "Myself."
News Flash: Elmo's New Game — "Let me think." and "Idea I will tell them."
Episode 2170 — Scene 1 — "Tell me more, Big Bird."
Episode 2197 — "Oh good, I can do that." and "Ooh, I got one!"
Episode 2199 — "Lemme see.", "Lemme see, Maria." and "Ah! Aah! Don't tell me."
Episode 2210 — Scene 1 — "Oh me oh my!"
Episode 2210 — Scene 2 — "Now here me go!"
Episode 2221 — In a scene with Yo-Yo Ma; "I'm fine." and "I'm coming, I'm coming!"
Episode 2254 — Scene 2 — "Now me Elmo."
School Pageant: Food — "Follow me."
Episode 2292 — Scene 5 — "I love this shirt!"
Episode 2308 — Scene 3 — "Me Elmo." and "I know, you ate something funny!"
Episode 2322 — Scene 5 — "Um, excuse me!" and "Ooh, I won again!"
The National Bird — "Uh, excuse me, excuse me, sir!"
Episode 2350 — Scene 2 — "I gotcha, I gotcha!", "'Scuse me, Mr. Piggy" and "'Scuse me, could you be quiet please?"
Episode 2356 — "You know what jungle world reminds me of?" and "Prairie dogs, I can show you how to be a monster."
Episode 2481 — Scene 4 — "Oh, thanks-thanks-thank you for complimenting me on my swimming suit." and "Uh, Gina, can you put me down please?"
Episode 2558 — Scene 2 — "Me too!"
Episode 2565 — "'Scuse me", "'Scuse me, Linda!", "Oh my goodness!" and "I don't think this is gonna work, Bob. I can't really hear the music this way."
Episode 2646 — Scene 1 — "No, I'm little red Elmo!"
Episode 2706 — Scene 7 — "Well, Mr. Smelly gave me a word, free."
Episode 2852 — Scene 5 — "Thank you for letting me be a Grouch, Oscar!"
Super Grover sketch — "My super cape is still in front."
"The Legend of Big Mouth" — "My name is Big Mouth! Because I have a big mouth!"
Episode 2910 — Scene 6 — "I guess Elmo has to play with new bug friends all by himself."
Episode 2940 — Scene 1 — "Isn't that the biggest nose- I mean, I mean the biggest news you have ever seen?"
Episode 2982 — Scene 5 — "Hello! I'm Elmo the toy!" and "Wind me up, Gina."
Episode 3096 — Scene 5 — "And I am, Captain Elmo!"
Episode 3179 — Scene 2 — "Can't hit me!"
Episode 3209 — Scene 5 — "'Scuse me!"
Episode 3432 — Scene 5 — "Uh, excuse me" and "Yeah, mostly me."
Episode 3557 — Scene 3 — "Careful, careful, that's my baby."
Sesame Street Goes to Day Care — "Alphabet Song" — "Gimme a hug!"
Episode 3807 – Scene 3 – "I thought Baby Bear said he wasn't tired!"
Episode 3862 — Scene 7 — "Lemme see."
Episode 3867 — Scene 1 — "Um, well, um lemme see, um."
Episode 3964 — Scene 4 — "I'm a Little Teapot"
Episode 4101 — "It's Mine" (partially)
Episode 4415 — The Word of the Day segment — "Hello, my name is Elmo."
Basil Hears a Noise — "Excuse me!"
Play-Along Games and Songs — "I'll tell you." "Here I go.", "Me too.", and "That's me too."
Let's Play School — "Me, me, me, me, me!", "Well, I thought, when you went to school, you learned all about letters and numbers." and "Me, too! Me, too! Elmo good at drawing pictures!"
Elmo's Sing-Along Guessing Game, when reading questions
We All Sing Together — "Oh, sorry, lemme help."
Sesame Street Stays Up Late — "Oh. Grapes for me?" and "Oofnik! Can you hear me, Oofnik?"
Sesame Street Jam: A Musical Celebration — "It's almost as easy as saying my name."
The Best of Elmo
Elmo's Preschool — "I wonder why that mouth is so mad." and "I see you!"
Learning to Share — "Oh, hi! I didn't see you there." and "This is Elmo's train. MY train! MINE! MINE! Mine."
Telling the Truth — "Me?! What did Elmo do?"
Elmo Says BOO! — "My goodness, Mr. Count." and "Oh my goodness, Mr. Count!"
Fiesta! — "But Oscar said, 'Stop bugging me!'"
Elmo's World: Singing — "Uh, excuse me, pigs!"
The Adventures of Elmo in Grouchland — "It's mine!"
Abby in Wonderland — As the rabbit.
When You Wish Upon a Pickle — "Tell Chris — I mean, tell Elmo — 'hurry!'"
"Big and Small" — "This birdie's a big guy when next to me." and "Big folks and small folks [. ] can still be friendly like me and you."
"One Fine Face" — "What you say to me."
"Sing Your Synonyms" — "If you know what I mean."
"Closer to Me"
"Sing" (20th and 25th anniversary specials) — "Sing for you and for me."
"We're All Monsters" — The redubbed version has Elmo speaking in the third person in the spoken intro, but in first person during the song.
"Library" — "Don't need my TV, when I go and read a book at the la-la-library."
"Heavy and Light" — "Mine's like a feather!" and "Lemme help!"
"Elmo's Jive Five" — "Gimme five now!"
"London Bridge" (Episode 2972) — "London Bridge is falling down, I said it's falling down, oh yes, it's falling down!"
"Three" — "That's me!" "And me."
"My Name"
"Sing Me a Silly Song"
"The No-No-No!" — "Now if someone says, 'Please dance with me', the answer is easy as it can be."
"Circle Song" — "That's the life for me."
"This Is My Train" — "With a toy that I've played with before."
"Red and Blue" — "Red is the color of me."
"Sing After Me"
"Let's Be Friends" — "Now raise your hand, I need a volunteer!"
"Nearly Missed" — "I nearly missed a rainbow, I nearly missed a sunset, I nearly missed a shooting star going by!"
"Slide (Pride)" — "Elmo is so proud of me."
"Hold My Hand" — "I am here for you." / "I will cross with you."
"Rubber Duckie" (Episode 3961) — "Rubber Duckie, I'd like a whole pond of, Rubber Duckie, I'm awfully fond of you."
"I'm Takin' a Break" — "Won't you take a break with me?"
"What I Am"
Christmas with the Mormon Tabernacle Choir ("Everyone Who Likes Christmas Say, "I Do!"")
"You.You"
"Hey Friend" — final line
"Sesame Street Theme" — "On my way to where the air is sweet." / "Can you tell me how to get to Sesame Street?"
Elmo speaks in the first person in Wait for Me!, When Is My Birthday?, Oh, I Am So Embarrassed!, and Elmo Gets Homesick. However, in No Red Monsters Allowed!, he uses his normal third person speech pattern, but says at one point, "Then let's all go to my house for a snack!".
In Another Monster at the End of This Book, Elmo speaks in third person, but near the end of the book, he says to Grover, "I saw you!"
Acknowledgements of the speech pattern
During the Muppets, Music & Magic event at The Cinema Arts Centre in August 2007, Elmo says that he speaks in third person because he is paid every time he says his own name.
Elmo is asked about his third person habit in a 2010 "Ask Elmo" video. He claims to get asked that a lot and says he was just born that way.
At The Paley Center for Media screening for Being Elmo: A Puppeteer's Journey, someone in the audience asked Elmo why he always speaks in third person. Elmo jokingly threatened that person, before responding that "it's just the way Elmo talks."
In a May 2011 appearance on Late Night with Jimmy Fallon, Elmo sings a portion of "His Eye is on the Sparrow," realizing afterwards that he said "me." He adds that he only says "me" in song.
In episode 4270, Detective Alfie Betts (Adam Rodriguez) is able to deduce many things about Elmo upon meeting him, including knowing he always speaks in the third person. "Elmo does?" he replies.
In ABCs with Elmo, Professor Grover sets up a lesson on the alphabet. When wondering what letter follows H, Elmo states, "I." Grover is shocked, having never heard Elmo speak in first person before.
Elmo impersonated Count von Count in episode 4411. His typical speech pattern ("Elmo is the Count von Count!") almost gives his ruse away to the judges, until Maria claims it's a Spanish nickname ("El Mo").
Notes
International dubs and co-productions, such as Germany's Sesamstrasse, have Elmo speaking in the first person, exclusively.